This post is also available in:
Français (French)
Deutsch (German)
Italiano (Italian)
Sulphur is an important nutrient. To function and perform vital functions, our body needs sulfur. Man himself consists of more than 0.2 of sulfur. Methylsulfonylmethane (MSM) helps humans to supply the body with this important element. Since the human body cannot produce the essential nutrient itself, it needs methylsulfonylmethane as a supplier. Sulphur is essential for humans. In our diet there are far too small amounts of sulfur, so the need can hardly be met by a balanced diet. However, since sulfur is essential for humans, methylsulfonylmethane helps us to prevent a lack of sulfur as a dietary supplement. This prevents unpleasant discomfort and painful illnesses. Sulfur is just as important as iron, vitamin D or other substances. This applies in particular to the fight against various health restrictions and inflammations. But also in the relief of pain, in metabolism and the detoxification of the body, sulfur is important.

MSM means methylsulfonylmethane. In the German-speaking world, it is also known as dimethyl sulfone. MSM is considered the simplest organic sulfur compound. MSM as an organic sulphur compound is partly responsible for the sulphur cycle of the earth. The starting point for the natural synthesis of methylsulfonylmethane is the sulfur uptake of algae, phytoplankton and other microorganisms in the sea. These produce dimethyl sulfoniopropionate (DMSP), which is converted to dimethyl sulfide (DMS) and finally to methylsulfonylmethane.
Depending on the season, the amounts of DMSO and methylsulfonylmethane in the air vary. In the spring and summer months they reach the maximum, while in winter they are the lowest. The oxidation products of DMS promote increased condensation and cloud formation. As precipitation and humidity, it returns to Earth, where it is again converted to DMS or methylsulfonylmethane.
To improve soil climatic conditions, DMSO and methylsulfonylmethane are absorbed by plants across the soil or used by bacteria. Another advantage of methylsulfonylmethane is that it is found in fruits, vegetables and cereals. The amount of methylsulfonylmethane bioaccumulation depends on the plant. Methylsulfonylmethane and other sources of sulfur are absorbed and excreted by humans and animals through plant products. As soon as the plant dies, a form of sulphide is released or decomposed as a by-product of plant breathing. However, methylsulfonylmethane can also be synthetically prepared by an oxidation of DMSO with hydrogen peroxide (H2O2). It is then cleaned by crystallization or distillation. It is then used as a supplement for humans and animals in various forms. As a major advantage, no differences between synthetically produced MSM and natural products can be found. [1] In food, the concentration of organic sulphur compounds is barely perceptible. Therefore, methyl sulfonylmethane as a food supplement actually offers the only realistic way to absorb the so important bioactive amounts of the mineral.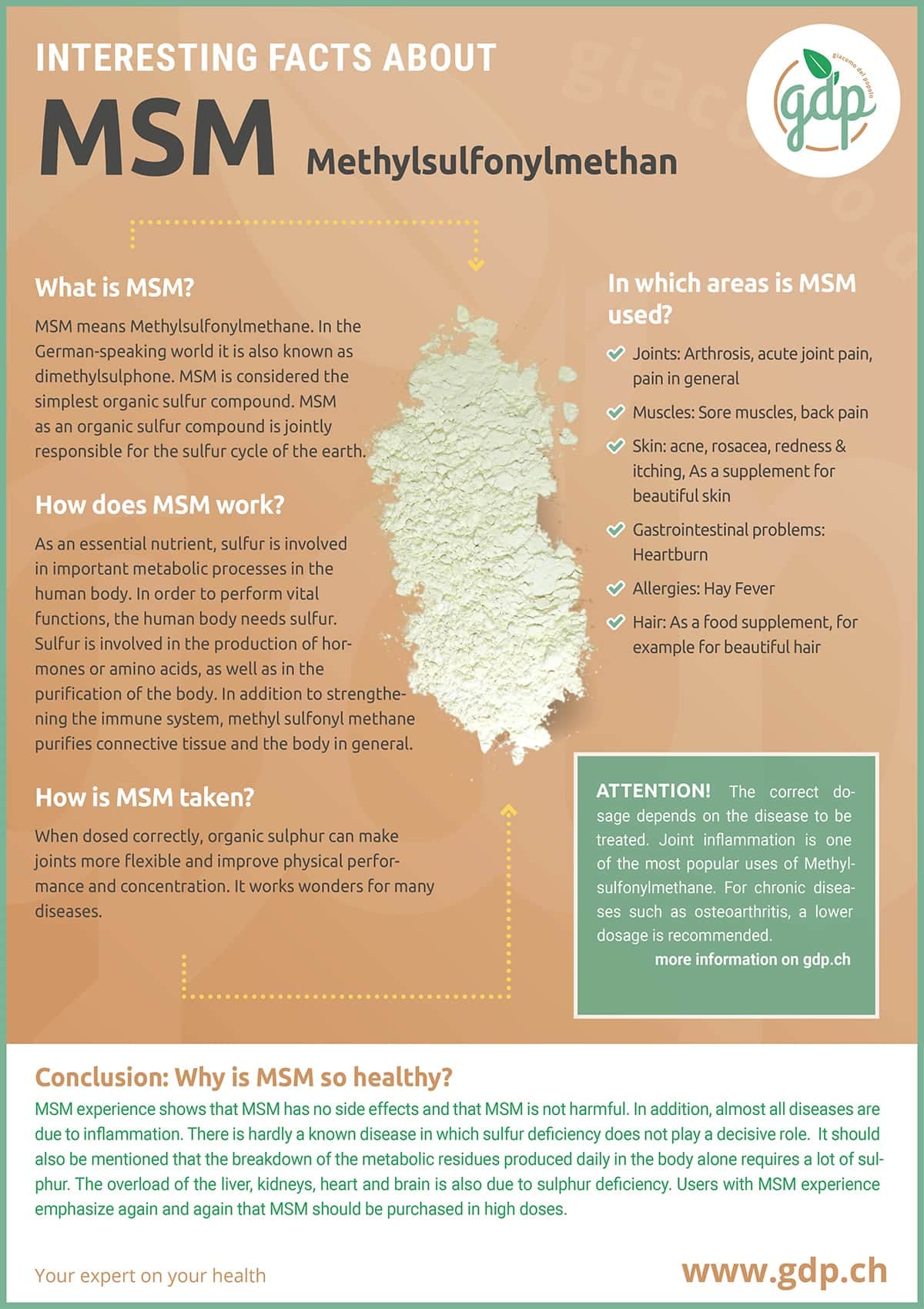 Sulfur is an essential nutrient involved in important metabolic processes in the human body. The human being consists to a greater extent of sulfur than, for example, magnesium or iron. In order to perform vital functions, the human body needs sulfur. Sulfur is involved in the production of hormones or amino acids, as well as in the cleansing of the body. These tasks can no longer be solved without problems in the event of a defect. As a result, there are complaints or painful illnesses. MSM high-dose counteracts this. In addition, MSM shows no side effects.
Many processes are connected in the human body. The development of various diseases can therefore be favoured by a lack of sulphur. By consciously supplying the body with high-dose MSM, serious diseases can therefore be prevented and acute discomfort and pain can be relieved.
Areas of application where MSM can have an effect:
As a natural analgesic, MSM shows effect and blocks the transport of pain impulses through the nerve fibers.

By increasing the activity of cortisol, MSM shows effect and blocks inflammation and inflammatory reactions. Cortisol is a naturally produced, anti-inflammatory hormone produced by the body.

MSM shows effect by improving the permeability of the cell membrane. This facilitates the absorption of nutrients and vitamins, as well as the removal of pollutants or excess cell fluids.

MSM shows effect by improving blood circulation and dilating blood vessels. This transports waste materials from the body and speeds up the healing processes.

MSM shows effect by relaxing muscles, an important and often overlooked benefit in chronic pain.

Support the body's natural defense mechanisms, by regulating prostaglandin metabolism, and the formation of antibodies and immune complexes.

Reduces pain along with glucosamine. Glucosamine is responsible for the renewal of cartilage tissue.
As a dietary supplement, MSM can be used for weight loss. It helps to increase physical function, accelerate muscle regeneration and prevent painful muscle soreness. This means that the next workout can be done faster and the diet does not have to be interrupted. This is one reason why MSM is suitable for losing weight. If you want to lose weight with MSM, metabolism also plays a further role. This process is important for burning fat. MSM promotes this process, so MSM helps with weight loss for this reason as well. The decisive factor here is the right MSM for losing weight.
To boost fat burning, MSM should be taken orally. If you want to lose weight with MSM, you have to buy MSM, which is suitable for this purpose. Therefore, MSM tablets, MSM capsules and MSM powders are eligible. MSM tablets and MSM capsules have the advantage of simple dosage. MSM powder dissolved in water tastes a bit bitter, but can also be taken easily. To make weight loss easier, you can also buy MSM, which are offered as combination products. In addition to methylsulfonylmethane, these contain other supporting substances. If you can't decide which MSM to buy, you can find tips from users with MSM experiences on the Internet. MSM is not harmful. MSM also shows no side effects.
MSM high-dose also slows the crosslinking of collagen fibers. This is a natural process in the formation of scars, which often forms hard and often painful scar tissue. This can also lead to chronic pain, especially in the case of burn scars, as these often take up comparatively large body surfaces. Methylsulfonylmethane helps to heal scar tissue and also makes the skin more flexible. If you treat burn scars with methylsulfonylmethane lotion, many people have burns almost completely disappearing. This also applies to the associated pain. MSM experiences of users confirm this.
The best methylsulfonylmethane

Basically, there are four different types of MSM to buy, namely powders, capsules, tablets and gel. The capsules are particularly practical, because they do not have to be dosed first. Swallow and ready! This is not only practical, but also time-saving. In addition, when swallowing, they hardly develop any own taste in the mouth. In addition, the powder is held by other agents in the capsule.
A methylsulfonylmethane product in capsule form such as Sanasis MSM has many advantages, because they contain not only organic sulfur but also glucosamine and chondroitin. As part of cartilage tissue, such as articular cartilage, all three substances together with vitamin E and manganese contribute to the protection of cells from oxidative stress. Oxidative stress means an excess of free oxygen compounds. These are naturally formed as a waste product at various metabolic events. In addition, manganese supports energy metabolism. Manganese also promotes the maintenance of normal bones and normal connective tissue formation. By adding glucosamine and chondroitin, MSM forte of Sanasis clearly offers more possibilities than a product based only on methylsulfonylmethane. This MSM is high-dose, all ingredients are clearly declared and of transparent origin. You can easily buy MSM from Sanasis in the online shop.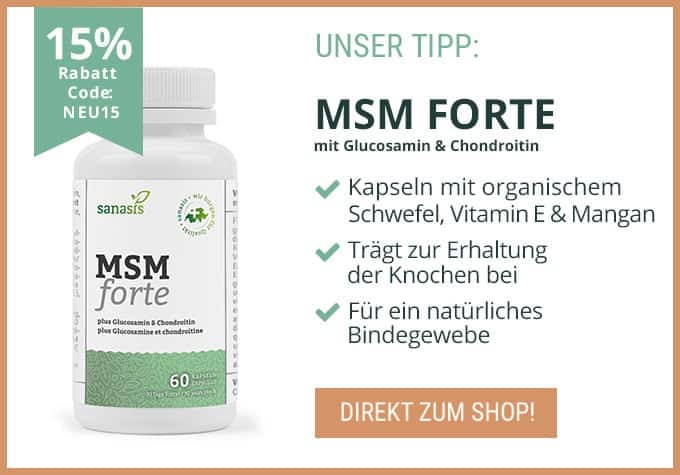 Methylsulfonylmethane helps to combat these ailments

Doctors recommend high-dose MSM due to its diverse positive properties for health and vitality, as well as to support healing processes. In addition, MSM is not harmful. These include:
The general effect
Reduction of pain

Reduction of inflammation

Increase blood circulation
For joints and cartilage
Promoting cartilage build-up

Relief in rheumatic polyarthritis

Relief for back pain

Help with joint pain

Reduction of gout complaints
For the nervous system
Relief in migraines

Help with nerve pain
For the stomach, intestines and bladder
Strengthening of mucous membranes in the intestinal tract

Help with chronic constipation

Strengthening the urinary tract mucosa
For the immune system
Reducing the autoimmune reaction

Mitigating allergies

li]prevents colds
For connective tissue and anti-aging
Strengthening of connective tissue

improved skin elasticity

Reduction of wrinkles

Slowing down the aging process

Help with acne and dry skin

Acceleration of wound healing

Promoting hair growth

Strengthening of the nails
For Sports & Fitness
Help with tennis elbows

Help with mucous bag inflammation

Help with tendon sheath inflammation

Relief of strains and sprains

Relaxation of hardened muscles
Methylsulfonylmethane and the correct dosage broken down by discomfort

In addition to strengthening the immune system, methylsulfonylmethane cleanses connective tissue and the body in general. With correct dosing, organic sulfur can make joints more mobile and increase physical performance as well as concentration. For many diseases, it works wonders. On the one hand, the dosage depends on the discomfort to be treated, but also on the chosen dosage form, because methylsulfonylmethane tablets, capsules and powders vary in the strength of the dosage. They are of course also used differently than ointments or gels.
Taking sulfur in the form of MSM capsules, tablets and powders is useful in many cases. Even with a balanced diet, it is hardly possible to absorb sufficient amounts of sulphur. MSM Sulfur is therefore an ideal supplier. MSM sulfur can prevent diseases caused by sulfur deficiency. Organic MSM sulfur supports bones and joints in the body and thus increases mobility. Especially for athletes who regularly exercise intensively but also for active persons, the intake of MSM is interesting, because the organic MSM sulfur accelerates the regeneration of muscles and painful muscle soreness. MSM sulfur cleanses the body and increases overall well-being.
Initial aggravation in the context of a detoxification treatment are not harmful with MSM, but are caused by the detoxification symptoms. For all mentioned applications, taking MSM sulfur by MSM tablets, MSM capsules or MSM powder is suitable. A combination with vitamin C and other substances is also useful. In skin diseases, MSM is indicated in the form of ointments and gels and is applied directly to the affected areas.
Studies confirm that MSM is not harmful. It is as safe for the human body as it is for animals. It is well received, and MSM and side effects are unlikely. Capsules and tablets are particularly suitable for humans. Animals are easier to supply with MSM powder. The dosage is dissolved in the water. If you are unsure whether taking MSM is the right thing to do, you should gain your own experience with MSM. This starts with a low MSM dosage. If you are unsure about taking MSM on horse or other animals, it is worth asking a veterinarian for advice and not buying the next best MSM. A good veterinarian has experience with MSM and advises one regarding dosage form and MSM dosage. If you follow the advice of the veterinarian, you have certainty that MSM is not harmful.
Joints
Osteoarthritis: Treated in the form of tablets, capsules or powder. The dosage is 2-3 g daily, or 2x daily 3 capsules, or 2 teaspoons daily.

Acute joint pain: Is treated in the form of tablets, capsules, ointment or gel. Apply up to 4 g daily, or 2-3 times a day.

Pain in general: Is treated in the form of tablets, capsules, powder, ointment or gel. Depending on the extent, apply up to 4 g daily, or 2-3 times daily.
Muscles
Muscle soreness: In case of acute discomfort up to 4 g daily, or preventive 1-2 g daily.

Back pain: In case of acute discomfort up to 4 g daily, or preventively 1-2 g daily.
Skin
Acne: Treatment with ointment or gel, apply 2-3 times daily.

Rosacea: Treatment with ointment or gel, apply 2-3 times a day.

Redness & itching: Treatment with ointment or gel, apply 2-3 times daily.

As a supplement for beautiful skin: In the form of tablets or capsules 2 g daily.
Gastrointestinal discomfort
Heartburn: In the form of tablets 2-3 g daily.
Allergies
Hay fever: In the form of tablets and capsules 2-3 g daily or 2 times daily 3 capsules.
Hair
As a dietary supplement, for example for beautiful hair: In the form of tablets and capsules 2 g daily.
The correct dosage depends on the disease to be treated. Inflammation of the joints is one of the most popular applications of methylsulfonylmethane. For chronic diseases such as osteoarthritis, the intake of a lower amount is recommended. In acute pain, the dosage increases. In the context of osteoarthritis, it is sufficient to take 2-3 g per day. In case of severe and sudden pain, the dose may be increased to 4 g. If methylsulfonylmethane is taken in powder form, this results in two teaspoons. This rule also applies to complaints in general. These can be muscle soreness, tension and back pain, but also migraines and headaches or painful inflammation of the skin such as acne.
However, methylsulfonylmethane can also be used to support the immune system or to prevent allergies and diseases. Low doses of up to 2 g per day are sufficient. This maintains the sulphur content in the body. If you want to maintain the beauty of hair and skin with methylsulfonylmethane as a dietary supplement or support weight loss, this is also valid. For this purpose, combined preparations with methylsulfonylmethane and other substances such as vitamin C or glucosamine are also offered.
In the treatment of inflammatory skin diseases, methylsulfonylmethane is used in the form of ointment or gel. These are applied 2-3 times a day to the area affected by the inflammation. Methylsulfonylmethane has an anti-inflammatory effect and soothes irritated skin. A corresponding preparation significantly reduces the redness and relieves the itching. In addition, organic sulfur regulates the moisture balance of the skin, which is reflected in a rejuvenation of the skin and reduced wrinkles.
Dosage in scientific studies
The sulfur and methyl sulfonylmethane dosages used by physicians also differ greatly in scientific studies. Some of them are experimenting with quite high dosages. For private use, however, this is not recommended outside of studies. But it is not obvious, the use of high methylsulfonylmethane doses in humans are promising. This is all the more so since overdose is hardly possible and the occurrence of side effects is very unlikely. [2]
The dosage of methylsulfonylmethane against hay fever
The ability of methylsulfonylmethane to reduce symptoms of seasonal allergic hay fever was illustrated by another study from the US. 50 participating subjects took 2.6 grams of methylsulfonylmethane daily. The symptoms of the allergy were observed weekly. At the end of the study after four weeks, the last measurement was taken. Improved respiratory symptoms were already detected after a week-long intake of methylsulfonylmethane. [4] Complaints in the upper and lower airways were further reduced in the further course of the study, with a significant increase in energy levels being observed for the first time after two weeks. This increase continued until the end of the study.
The organic sulfur is applied for these treatments by an MSM dosage with capsules or tablets. But powder dissolved in water can also be taken.
The dosage of methylsulfonylmethane in the treatment of osteoarthritis
The symptoms of osteoarthritis could be significantly reduced in a clinical study with an administration of twice 3 g of high-dose per day. The subjects reported a significant relief of the pain caused by the organic sulfur. They were able to carry out their daily tasks in life more easily by improving their physical functions. A study from Israel proves that no dosage of 6 g of methylsulfonylmethane is necessary. Osteoarthritis patients were given 1,125 mg of methylsulfonylmethane three times a day, equivalent to a total of 3,375 mg per day. The surprising result after twelve weeks, methylsulfonylmethane relieves pain and inflammation of the joints even at a relatively low dosage.
Another study from India was similarly structured. In this study, patients suffering from osteoarthritis were given organic sulfur in small doses for 12 weeks, namely only 1.5 g of methylsulfonylmethane per day. [5] Methylsulfonylmethane acted as a painkiller. It could clearly prove its anti-inflammatory effect. This became even clearer with an additional intake of glucosamine of the participating people. Combinations of methylsulfonylmethane with other substances such as glucosamine and chondroitin or vitamin C are also available from us. Combination preparations in capsule or tablet form are consistently well tolerated, side effects remain unlikely.
Methylsulfonylmethane also has a beneficial effect on the health of dogs. According to studies, ingesting methylsulfonylmethane helps to strengthen bodily functions and prevent painful joint problems. In principle, methylsulfonylmethane strengthens ligaments and tendons, it also relieves tension and acts against inflammation. Generally, it relieves the pain of the four-legged friends. Furthermore, regular ingestion nourishs the skin and can help to provide shiny fur. The recommended amount of methylsulfonylmethane naturally varies depending on the quadruped and its size and weight. Larger dogs are recommended a significantly higher amount of methylsulfonylmethane. In addition, heavy dogs are much more likely to suffer from joint problems. For every 20 kilos of body weight, one gram of methylsulfonylmethane is based as a ruleof thumb. This is best administered by MSM powder dissolved in water. Side effects are not known in dogs.
MSM in Horse / MSM Dosage
The correct MSM dosage for the horse depends primarily on his body weight. Furthermore, the extent of the disease, the pain and the desired goal are also crucial for the horse. The recommended dose of MSM for the horse is between 5 and 10 g per day for an animal weighing 500 kg. However, a daily dose of 15 g MSM in the horse should not be exceeded. In case of doubt, a veterinarian should always be consulted at MSM for a horse. Using MSM for a horse, it makes sense to put the MSM powder into the water of the animals. MSM as a powder is best adopted by a horse.
In order to assess the effectiveness of sulfur against oxidative stress, a study was carried out in Spain in horses participating in a show jumping tournament. These horses received 8 mg/kg of methylsulfonylmethane daily, which is just 4 g in a horse of 500 kg. This dosage was absolutely harmless to the animals. A positive effect could be observed, there were no undesirable side effects. The result for the researchers was clear, methylsulfonylmethane amounting to 8 mg/kg can prevent oxidative stress through excessive exertion. Thus, all negative symptoms caused by intense physical activity can be alleviated by methylsulfonylmethane.
Symptoms caused by excessive exertion can be reduced to 500 kg from a dosage of 4 g of methylsulfonylmethane and have a protective effect. If the desired effect does not occur, it is advisable to carefully approach the optimal dosage. It is advised to start with 5 grams. This is taking into account current studies and recommendations. In acute pain, methylsulfonylmethane can be dosed higher. When used correctly, MSM is not harmful. Side effects are not known in the horse.
Methylsulfonylmethane shows virtually no side effects. Also, no interaction with other preparations is known and it does not addictive. There are also no signs of habituation, which would necessitate a constant increase in the dose. Occasionally, certain detoxification symptoms may occur in the first days of taking methylsulfonylmethane. These can include headaches, diarrhea, rashes and fatigue.
According to the American Food and Drug Administration, methyl sulfonylmethane is classified as safe for health. The experts of this institute refer to methyl sulfonylmethane as a well-tolerated substance to which food may be added and is therefore considered a dietary supplement. At a daily dose of up to four grams, methyl sulfonylmethane can be ideally absorbed by the human body as an approved substance and without any problems. The American Food and Drug Administration assures that taking up to four grams of methylsulfonylmethane is absolutely harmless to the human body.
Conclusion – that's why MSM is so healthy

MSM experience shows that MSM has no side effects and that MSM is not harmful. In addition, almost all diseases are due to inflammation. Hardly any disease is known in which non-sulphur deficiency plays a decisive role. [6] It must also be mentioned that the degradation of the metabolic residues produced daily in the body alone requires a great deal of sulphur. Also due to lack of sulphur is the overload of the liver, kidneys, heart and brain. Users with MSM experience repeatedly emphasize that MSM should be purchased in high doses.